The information below is meant to explain what it takes to build a successful website for a small business. It is a guide for you to prepare to create the site and know what you need to focus on. Knowing what is essential will prevent you from being overwhelmed by the informational overload of making a small business website.
Before we get started, please understand that long gone are the days of "if you build it, they will come." After you complete the long task of building the site, you need to market the website (off-page SEO). Proper preparation will allow you to create a site that generates leads and sells.
Moreover, not all website companies properly prepare small business websites that have effective marketing. Website Designer Bee, provides Web Design Services that will help your website to accomplish your goals.
Stages of building a website for a small business
Essentially, it all boils down to preparation, keyword research, and proper website structure. Once you know the appropriate keywords, it will lead to content that generates leads and sales. DO NOT SKIP the keyword research and keyword analysis stages. Your content ideas and website structure are derived from your keyword research and analysis work.
Preparation

Managed Website or DIY?
eCommerce vs. Lead Generation
Keyword Research – We always start a website with keyword research for SEO.
Keyword Analysis for SEO. This will include competitor keyword analysis.
Branding

Website structure – decisions, decisions. Always think about the user experience (UX).

Pages
Blogs
Products
Categories
Hierarchy

Content Creation

In-depth information
Rely on your Keyword Research and Analysis

Marketing your small business website

Advertising – PPC
Social media
Back linking
Managed Website or DIY? Decide which approach is best for your small business.
A managed website simply means that a website design company will manage the entire website, including upgrades, maintenance, security, and content updates. This is what we do here at Website Designer Bee. Of course, you may want to take the DIY route. If so, don't stop reading because this article is still for you.
There are multiple website builder programs out there that you can use to build a site. The problem is that they focus on the visual aspects of the site. Unfortunately, there is more to ranking than a pretty layout. We will help you with proper keyword research, keyword analysis, website structure, on-page SEO, and off-page SEO. Furthermore, as a small business owner, you should focus on providing the product or service to your clients and not worrying about the rigorous process of building and then ranking the site.
Ecommerce vs. Lead Generation
An eCommerce website means that you will present the products online, and the consumer will have the option to pay you directly on the website. Most eCommerce websites sell products (physical or digital) that get delivered to the consumer. Additionally, most small business service companies opt for a lead generation website. The customer finds the website and either calls, emails, or completes a form on the site. Later, the business owner will sell their services offline.
Depending on your product or service, you may opt to do an eCommerce website. Many small businesses that provide a "service" do not need this. If not, your entire site should be focused on generating leads via forms, emails, or phone calls. When choosing eCommerce vs. lead generation, the decision is made for you based on what you sell.
However, imaginative small business owners may offer a hybrid product/service that is fully described with detailed information and purchased online to be installed or performed within a local business area.
Keyword Analysis for SEO – (DO NOT SKIP)
Deciding on what keywords to include in your content can make the difference between a successful site and a great-looking website with no visitors. This is especially true when you focus on industry jargon. Remember, many consumers do not search using industry jargon.
The process of analyzing keywords for SEO will help you discover the keywords you will use for your small business website. Consumers use common words to search for what they need. For example, when a homeowner is looking to buy solar panels, what keyword would he or she use?  It may not be the keyword "photovoltaic panels." They would use the word "solar panels." At the time of this article, the keyword "solar panels" had 201,000 searches per month, vs. "photovoltaic panels" had 1,600 searches per month in the US market.
In the world of website keywords analysis for SEO, you have short-tail keywords and long-tail keywords. An example of a short-tail keyword for a restaurant catering company is the word "catering." The short-tail keywords tend to be general. For instance, there are many types of restaurants and types of food in the food catering industry. However, if your restaurant specializes in weddings in the Houston area, a better long-tail keyword could be "wedding caterer Houston."
Knowing what keywords to use in your small business website is half the battle of creating a successful website.  The bottom line is that the keyword analysis for SEO will help you shape your content and possibly even the site's structure. DO NOT SKIP the keyword research and analysis stages.
Keyword Research for your Small Business Website (DO NOT SKIP)
An excellent small business website starts with proper Keyword Research for SEO. Know what your customers are searching for and how they are searching. Many businesses use jargon that the end consumers do not commonly use. It is essential to identify both the jargon and the widely used keywords by your customers during the keyword research phase. To help us prepare to build your website, we will start with a questionnaire that includes the following topics:
Tell us about the industry and anything that may help us understand how your business fits into the industry.
Describe your small business.
Describe your products and services. If applicable, please group the products/services into categories.
What is your service area? For example, you may service the entire city and perhaps the suburbs? Do you make a product and sell it nationwide?
List of closest competitors that offer what you offer. Visit their website and see what they are doing.
Describe your typical customer (age range, income, etc.).
Do you have any competitive advantages? In other words, how do you distinguish yourself from the competitor?
If applicable, do you offer a warranty on your product or service?
Do you have a physical store or office where a client can visit you, or do you go to your client? Maybe you do both. Let us know.
Even if you are planning on creating the website yourself, it is helpful for you to work through the above questionnaire. Then, take the time to think about how your business and products fit in the industry. It will help you focus and prepare for the next steps. For a managed website, it is critical. Remember, we may never understand your business as much as you. Providing us with the above essential information will help us with the necessary keyword research for your website. This applies even when your small business has existed for many years, or you are a startup.
Below are ten resources to start your keyword research phase for your small business:
You – answer the questions above and write down the products, services, and categories you do business in. Make a list of product categories thinking of how an actual customer would search for your product or service on the internet.
Google Prediction – Search as you search
Google suggestion – At the bottom of Google search
Keyword Planner from Google (via Google AdWords)
Trends from Google – helps you understand how seasonal your product or service may be.
Google Search Console
Keyword generators via paid services like ahrefs or MOZ
Ask the Public
QuestionDB – https://questiondb.io/
Website Branding for Small Businesses
Website branding does not have to be complicated. For a small business website, we mainly talk about two versions of the logo and color scheme you will be using throughout the site. Having a clean, uncluttered website is part of the branding. Your priority with branding is establishing credibility.
The name of your company and website can be as important as using the right keywords. The importance of the name will increase depending on what you do. If you provide products online and marketplaces like Amazon, Wayfair, and Wal-Mart, we highly recommend you go through the process of obtaining a trademark. Having control of your brand name is vital. For example, Amazon will not allow you to create enhanced content if you do not have a "Principal Register trademark."
When building a small business website brand, make sure you cover the basics:
Minimum of two versions of your logo (horizontal and square version)
Maintain website color scheme consistency
Make sure your website has a proper word and image spacing. Make it easy for the customer to read your content.
Create trust through reviews from your actual customers
Highlight business associations and industry partners will also build trust
Gallery of jobs you have done or products in use
Add meaningful content with images and videos
Responsive Website
Speed
Good UX
If you search online for information about website branding, many sites provide mumbo jumbo about going beyond the logo and the color scheme. I'm not saying they are wrong, but do you have a budget like Nike, Facebook, and Amazon? Concentrating on priorities is the key to not blowing your budget. Focus on providing insightful and helpful content to your customers. I would go as far as saying that emphasizing your knowledge about the product or service will demonstrate your expertise. Creating a feeling of trustworthiness could be the difference between customers choosing you or your competitor.
Website Structure for Small Businesses
Website structure refers to how you organize your website pages, products, and blogs for both the potential customer AND Google. The way you build your page and blog hierarchy will help unclutter the site. For most small businesses, we recommend a simple page hierarchy with a shallow structure.  In other words, don't have a category with three or more subcategories under them. This is especially true when one of the categories has more content than the other categories.
For most small businesses, we recommend you keep a simple, straightforward website structure. In other words, don't overthink it. Your home page would be level one. Level two on the diagram below would be pages like contact us, about us, products categories, service categories, locations, and blog categories.  Level 3 would be actual products, specific services, specific locations, etc. For a small business, the structure rarely needs to go below level 3.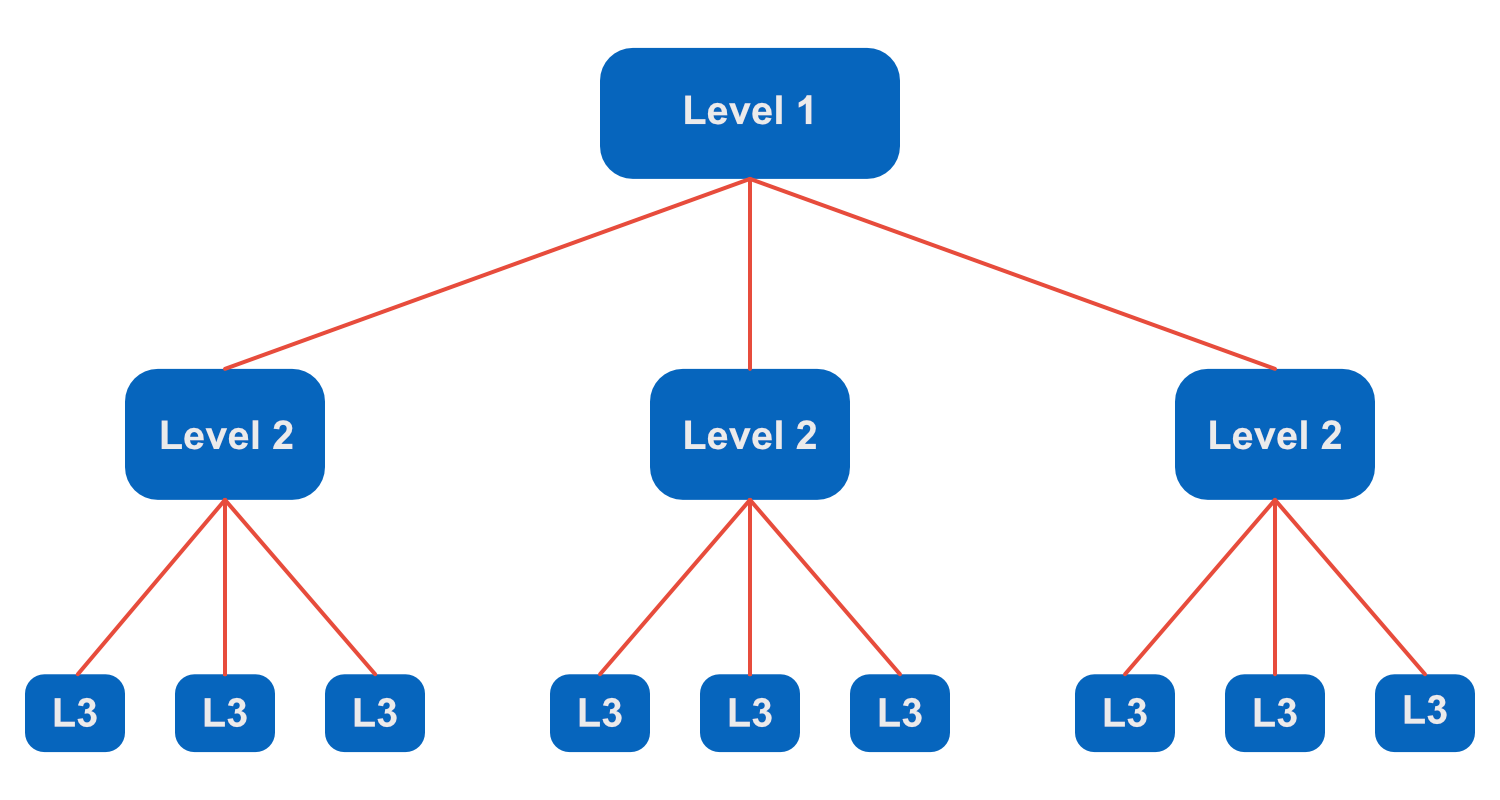 The navigation menus and internal linking are also part of your website structure. Helping the readers navigate the website to find content that may interest them is part of a good website structure. A great and easy trick to building a good "website structure" is having a sidebar with links to helpful and related content. It is a shame that many website designers have moved away from having a sidebar to the detriment of higher ranking. Additionally, the sidebar is an easy way to create internal linking and helps improve the user experience (UX).
Content Creation for Small Business Website
There are many sites and blogs that describe how to write compelling website content. Here, I would like to focus on content and how it relates to the choice of topics, structure, and keywords. Your keyword research and analysis should have revealed plenty of topics to choose from. Below is a specific example of a landscape company here in Houston.
Content Topics Reveal Themselves via Keywords Research
For a landscape company that does a lot of water drainage work, what website content should you write about? Most of the installations require catch basins and diverters. But after the keyword analysis, we found out that NOT many people searched using the keywords "diverters" or "catch basins." Potential customers were searching "French drains" or some type of variant. The keyword analysis also revealed that "drainage" is not a keyword here in Houston. But why not? Well, it turns out that the city of Houston charges a fee called "drainage." Many people in the Houston area were searching on Google to find out what the fee was about.
Content Structure Becomes Obvious
In the end, with keyword volume research and search intent, the content became obvious. Hence, the next step was quite simple in regard to the content structure: Write about landscape drainage and then discuss the types of drainage correction methods. They ended up with a page structure as outlined below.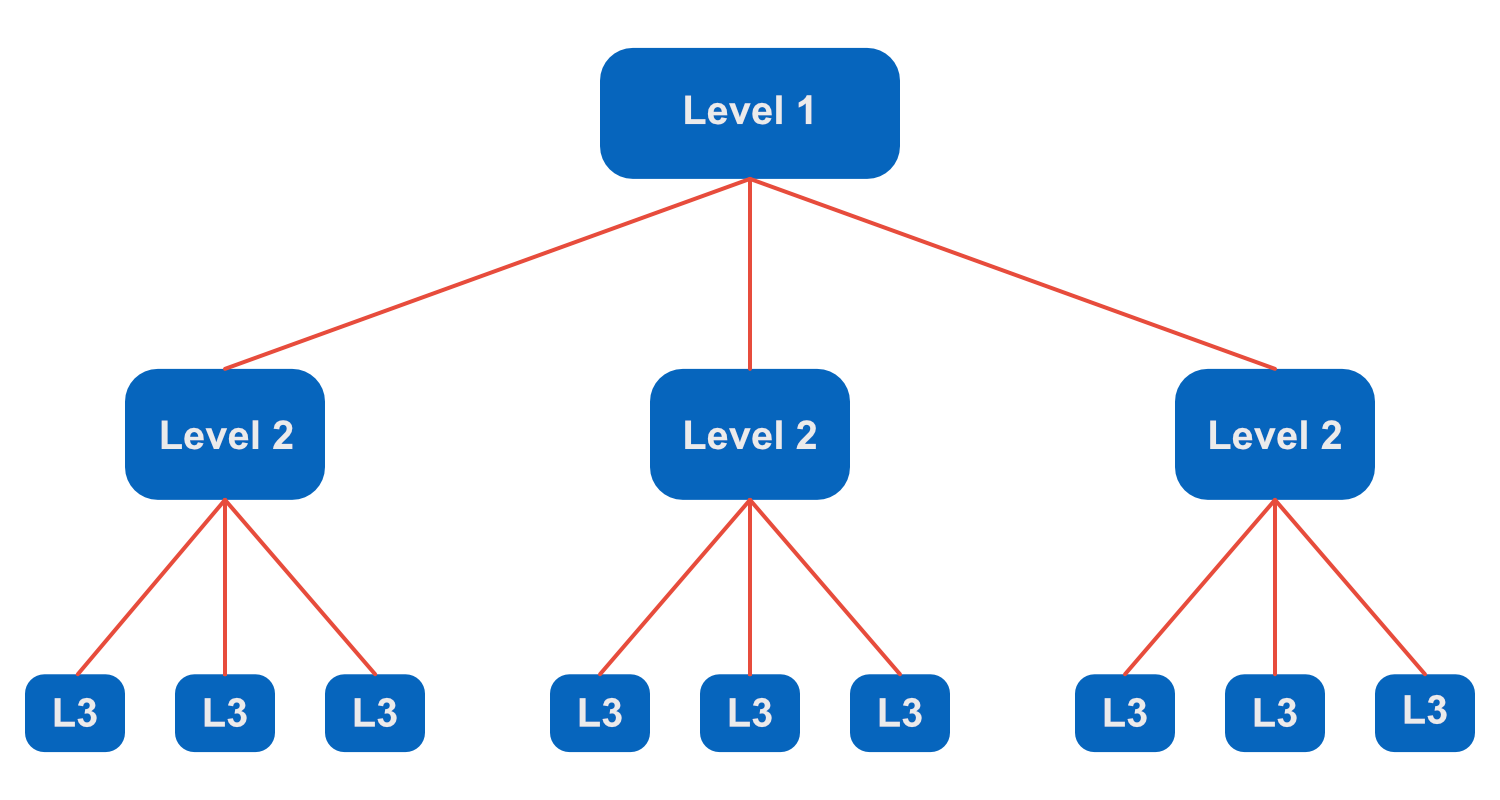 Initially, the website content was written without having done keyword research analysis. The business owner had missed the fact that most people thought they needed a French drain to solve their backyard water issues. After the business owner revised the website, potential customers searching for French drains found his landscaping business website. Then, potential customers ended up reaching out because they accessed helpful information about various landscape drainage options when they visited the website.
Website Content Details
So, there are all types of information you can provide about your products or services. Following the example of the landscaper website, we recommend giving as much information about how you will provide the service. Also, explain the benefits of the service and how it will help them. Additionally, we recommend revealing the pros and cons of the types of installations. Then, explain how your product or service works and even describe the process of installing the product. If you provide enough information, the potential customer will appreciate it and reward you by awarding you the project.
When the landscaper website owner visited his clients, he was surprised to find that the customers had printed his website pages and asked detailed questions about specific drainage solutions. This is what I call pre-selling. His website explained available options. All he needed to do is build a clear plan to accommodate the customers' yards and drainage needs and close the deal. Consequently, the updated website led to more sales and more profit.
Marketing your small business website
After all the research effort and content creation, you are ready to START marketing your website. Yes, that is right; if no one knows about you, no one will buy what you are selling. Marketing your small business website is laborious and time-consuming work. I'm not talking about paying Google advertising. I'm talking about the process of ranking the site so you can get organic traffic. Ranking the site means being on the first page of Google and Bing.
Your first step is to create your social media accounts. This should include Facebook, Instagram, Twitter, Pinterest, YouTube, and Google My Business. There are many other social media accounts, but these 6 are the big ones that promote your small business website presence. We recommend you post on them at least once per week. There is nothing worse than visiting a social media page when the last post was from months or years ago.
After creating your social media accounts, the next step is finding ways to get backlinks. For ranking a website with Google, this is still the golden rule. You need backlinks to rank well. This is probably the most laborious and most time-consuming part of owning a small business website. The reason is that getting backlinks through white-hat techniques is a laborious task. Whatever you do, do not go and try to post spam using social media accounts or via comments on other sites. This will may hurt your ranking or blacklist your site. This is something you can dedicate your time and attention to, or you may decide to contact a company that specializes in Website Marketing Services.